Union Doors featured Vendors
Union Doors is quite particular in the entranceway technology product lines it works with.  Record USA is a premier manufacturer offering outstanding automatic door products. The 5100 Series was recently featured in a Union Doors healthcare industry  installation at Brigham and Women's Hospital – Click here for more information on that installation.
The following is information from the Record USA official site:
To download the Record USA 5100 Series PDF Brochure – CLICK HERE
5100 Series Sliding Door System
The 5100 Series Sliding Door System provides silent microprocessor driven gear reduction belt drive operation for years of dependable service. This Swiss and American designed sliding door has the latest in electronic assembly and software programming and comes with a lifetime warranty for the door track system. The 5100 Series sliding door is not only available in all ANSI configurations, but can be applied to all types of specialty applications.
Offering a wide breadth of configurations and functions, the 5100 series assures the architect and building owner a wide array of capabilities in ensuring the most safe, secure and attractive entranceway available by choosing from the following options:
Different operating modes
Automatic mode with full opening width
Automatic mode with reduced opening width
Automatic mode in one-way (exit only) for traffic control
Adjustable reduced opening mode
Continuously open: door opens and remains in open position; either full open or reduced opening width
Off mode: door can be moved by hand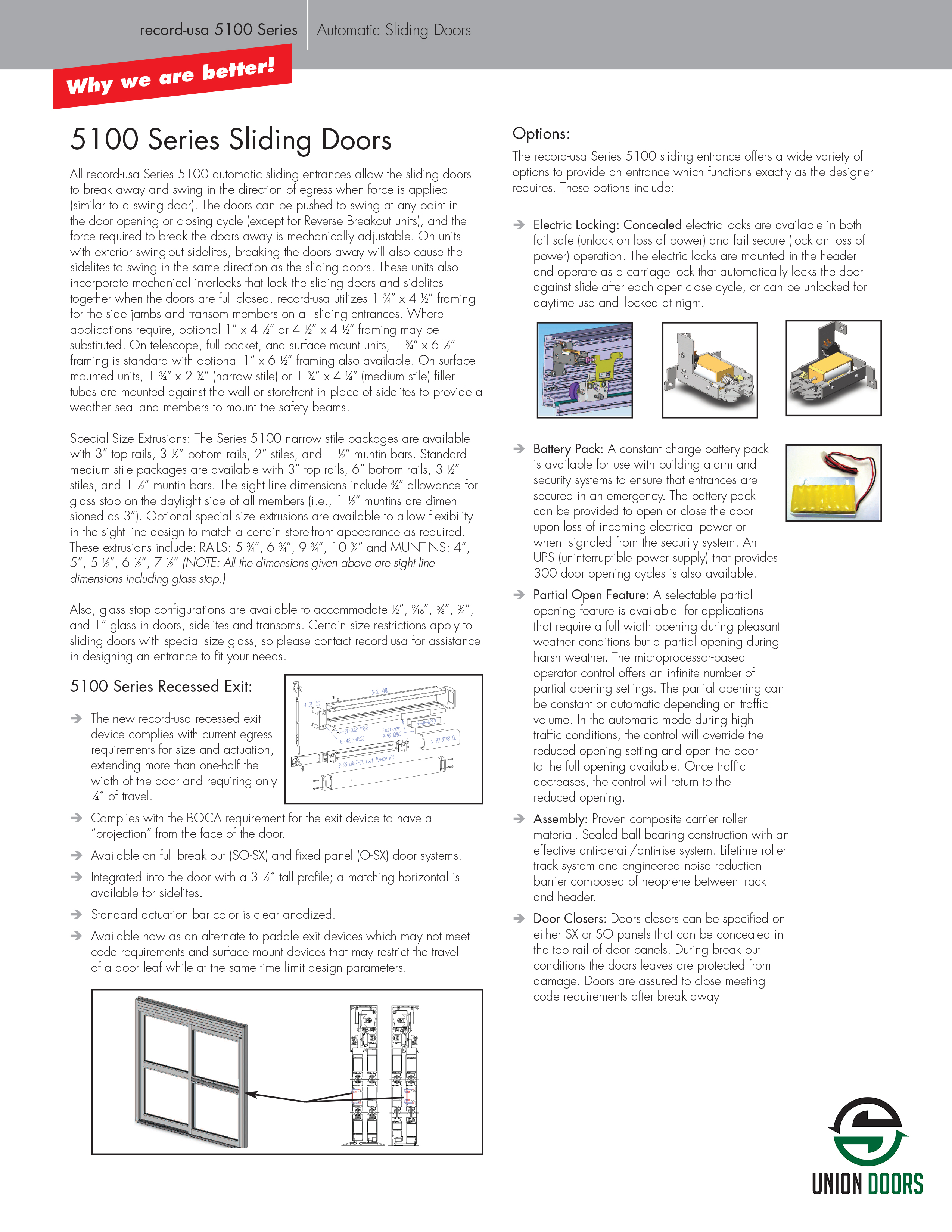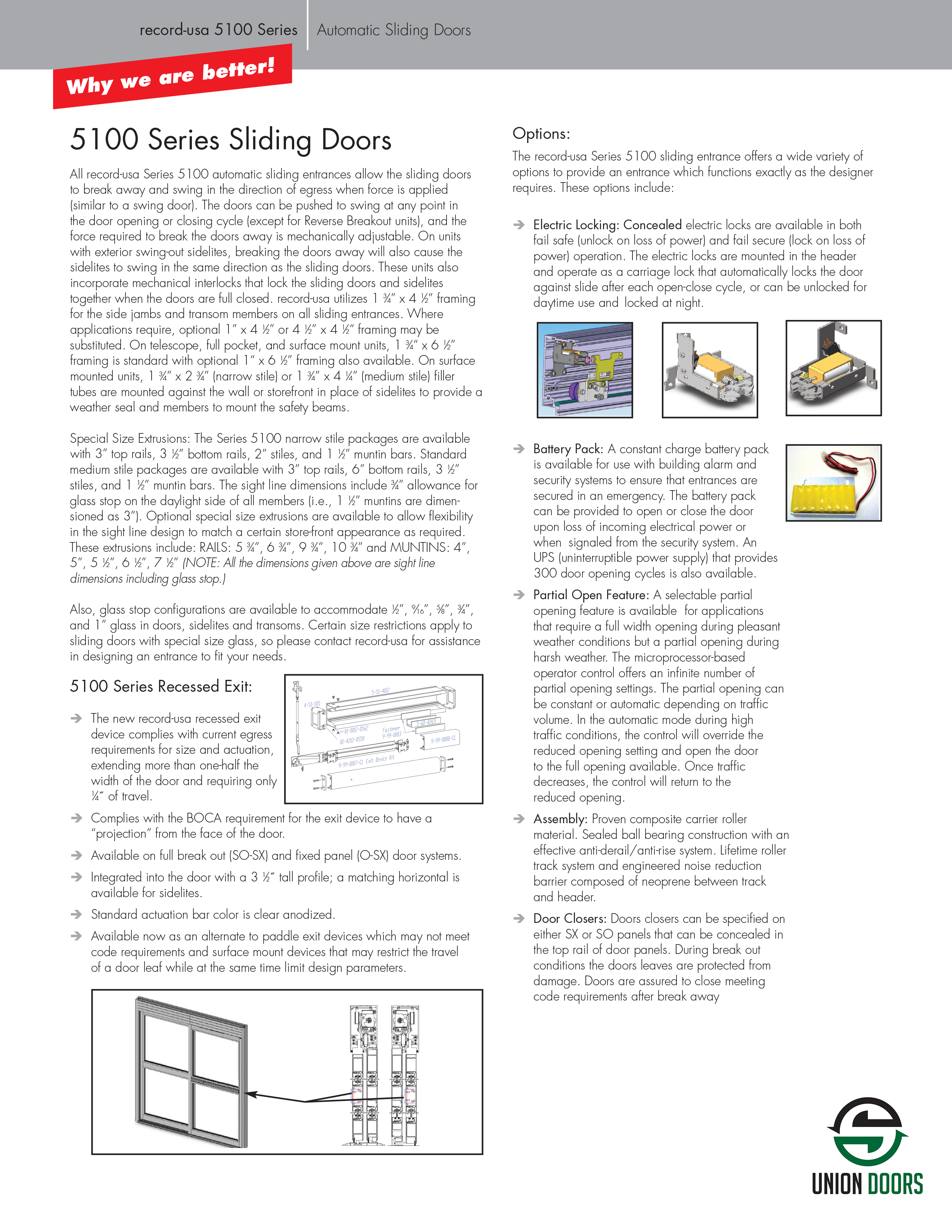 Safety Functions
Safety sensors (self-monitoring holding beams) in the clear opening of the door prevent the door from shutting if persons or objects are in the detection zone.
Safety automatic reversing mechanism: if the door leaves are inhibited when closing, they are immediately re-opened (automatic reverse 2-step adjustable). If the door leaves are hindered when opening, they are immediately stopped.
The position of the obstacle is stored and will be slowly approached during the next door movement.
Even in the case of power failure, the emergency fail close or the emergency opening is assured by the optional emergency power options.
Sidelite protection – Additional sensors located above the opening path of the door will slow the opening if a person or object will inhibit the door opening normally.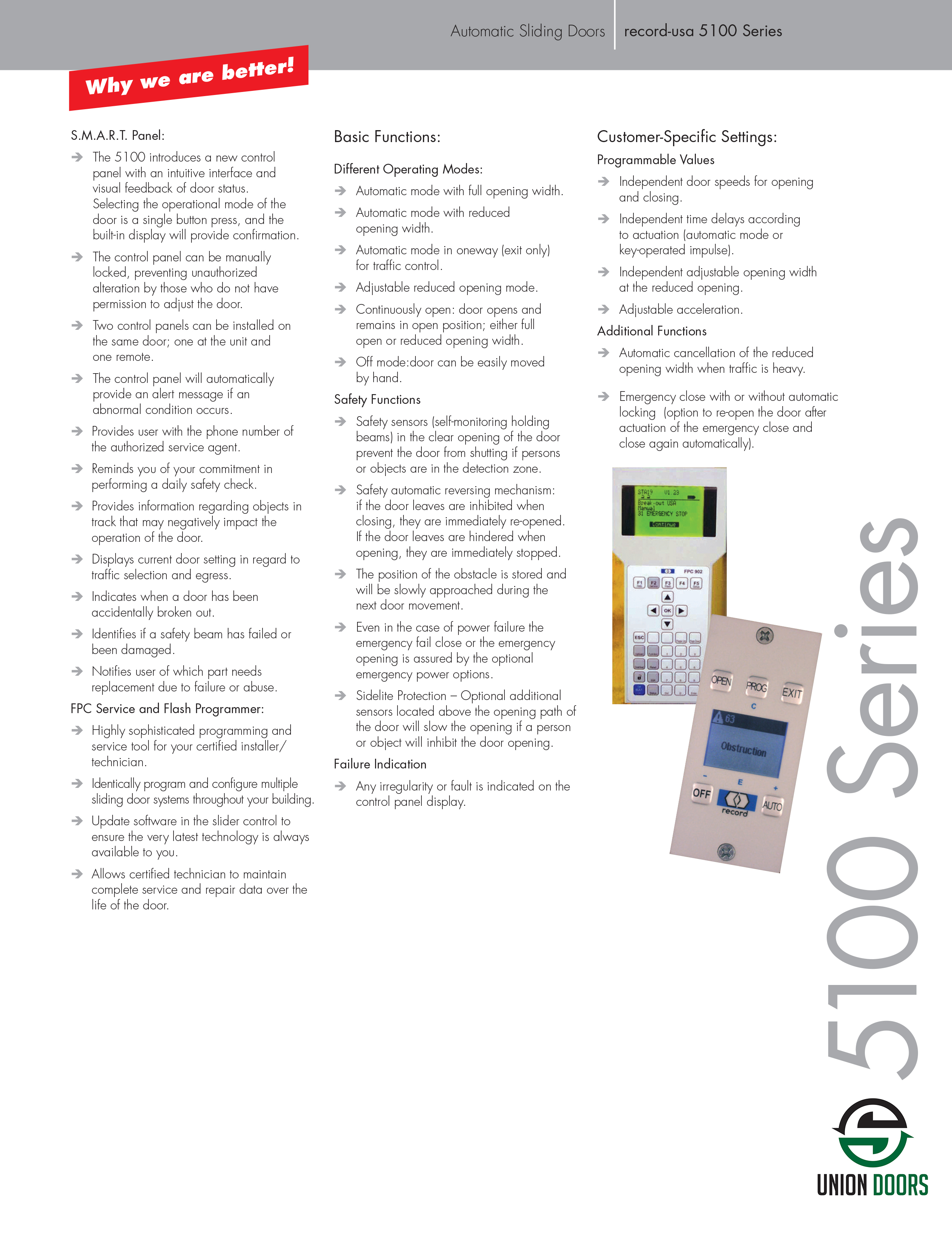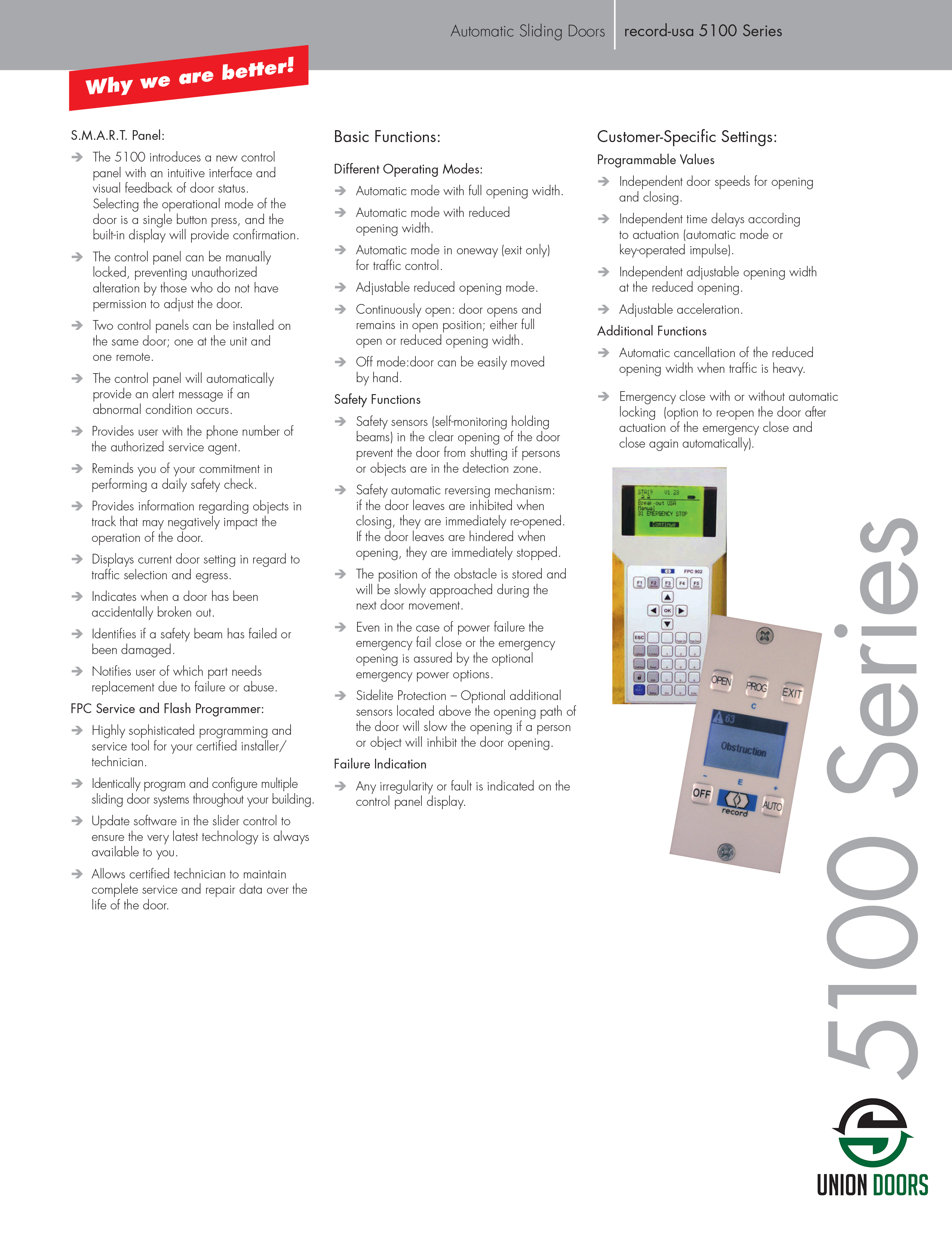 Options
Emergency battery: in the case of power failure, the optional battery back-up device will perform flawlessly (including all sensing devices) for hours. When the battery's capacity is low, the door slides to a pre-determined position (open, shut or locked). In the case of continued power failure, the shut and locked door can still be opened automatically by a key-operated impulse.
Electro-mechanical locking device concealed in the operator casing.
Systems for locking device surveillance and alarm.
Door leaf surveillance.
Interlock control: Continuous interlock control or only selectable by external contact (key-operated contact or building services control system).
Communication module for data exchange with a higher-level building services control system.
Door Closers
Integrated support for hydraulic closers in both SX (slide/swing) and SO (swing sidelite) panels.
Built into the top rail, door closers are available when specified, to ensure the door closes and remains operable after emergency breakout egress.
Panic Device
Recessed panic hardware is available for full-breakout and fixed panel applications which will comply with all existing exit codes.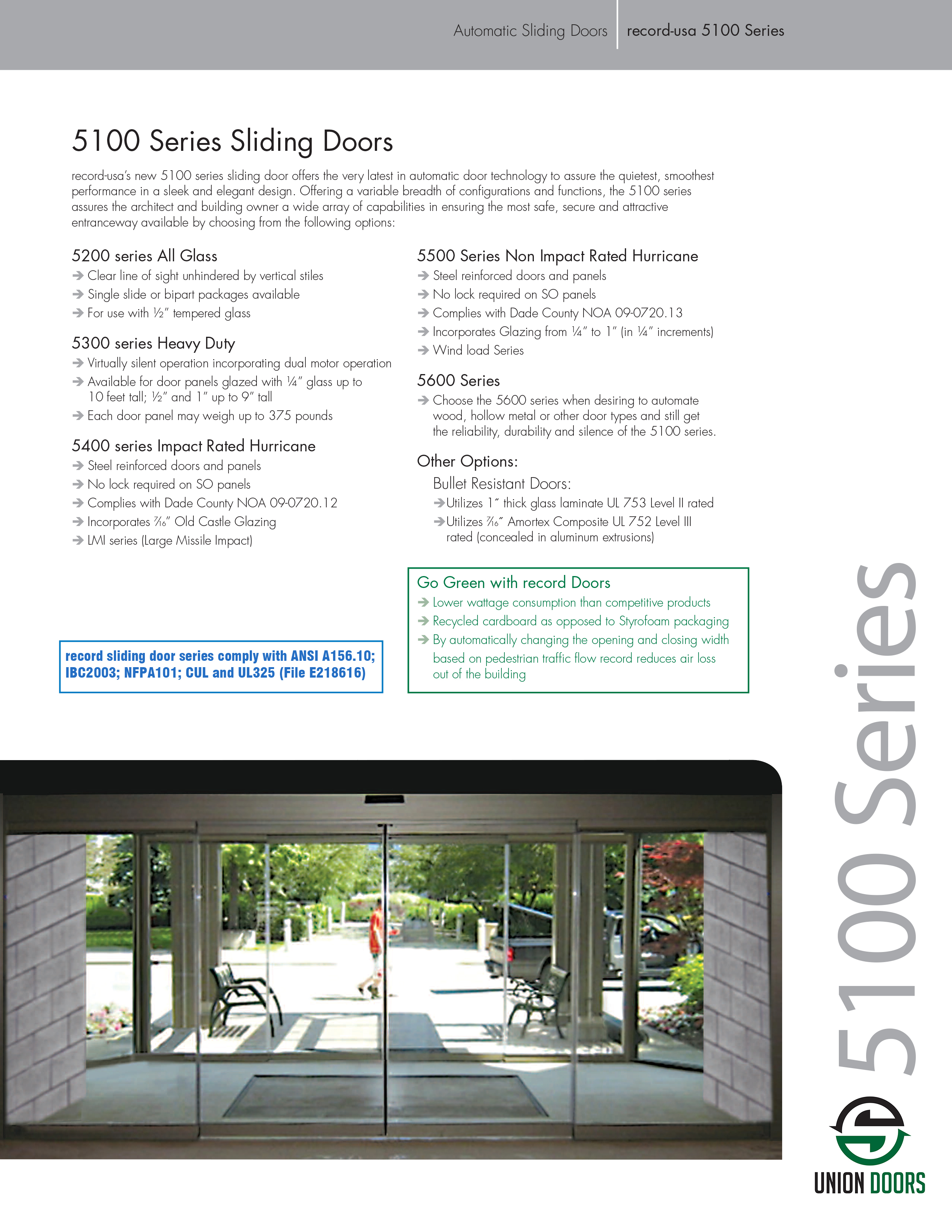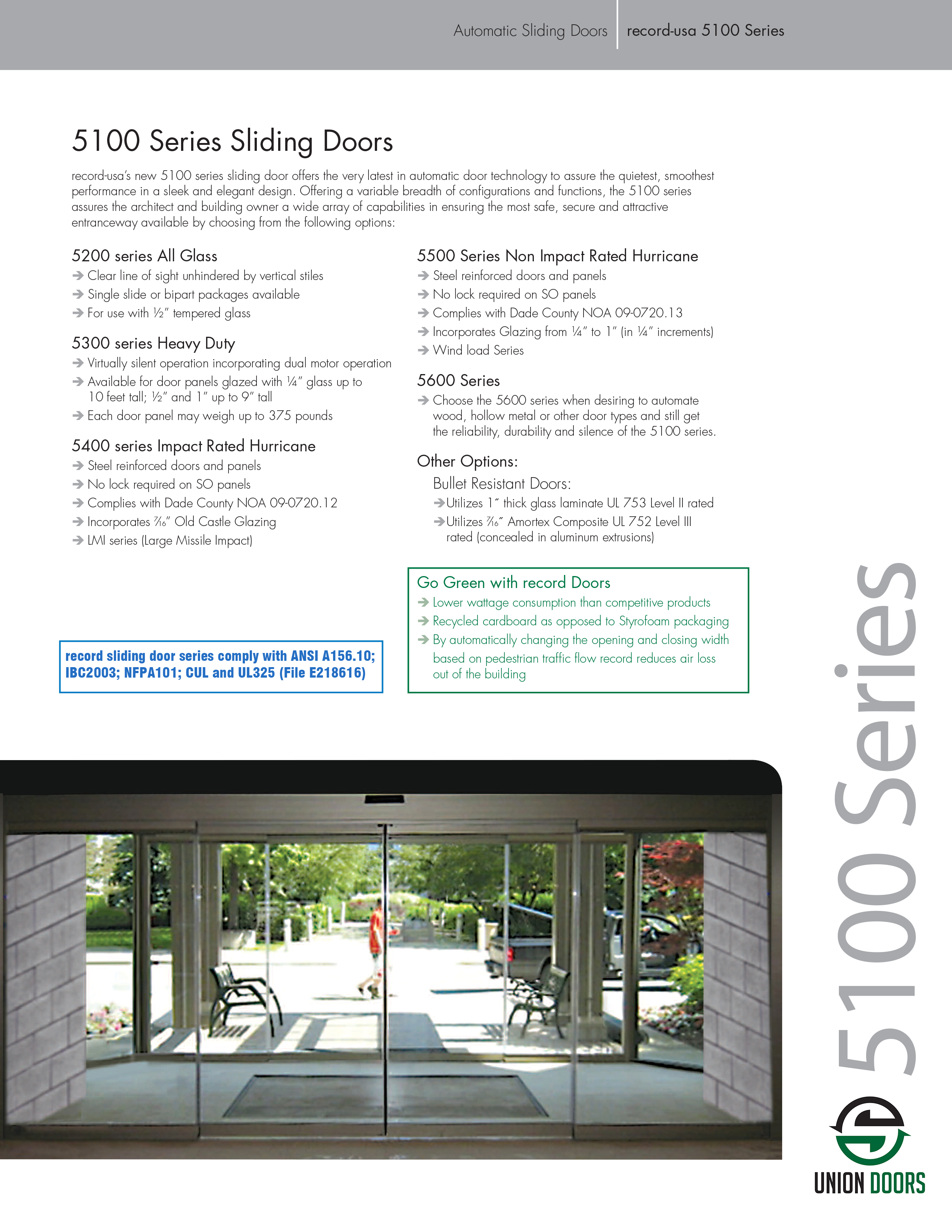 Design, Installation, and Service.
Union Door provides strategic consulting, design and project implementation of Entranceway Technology .
We sell, install, service, and maintain automatic and manual door systems.
Contact us today – 617-455-8023