Union Doors & Suffolk Construction
Healthcare Industry – Ambulance Entryway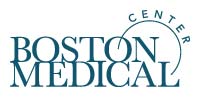 Union Doors was asked by Suffolk Construction to be an integral part of their team in moving
Boston Medical Center's
ambulance entrance.  Boston Medical has one of the busiest ambulance emergency entryways in the city of Boston; the job required Boston Medical ambulatory entranceway to  be shut down for a maximum of 48 hours. This project required and received a massive push by all participating businesses and trade workers.


Union Doors turned a space where there was once nothing  into a brand new entryway with a customized Horton bi part slider on the exterior and a
Horton Automati
c 4000 pair inside complete with remote switching (Horton 4000 Series Heavy Duty Swing Door Operator Dual).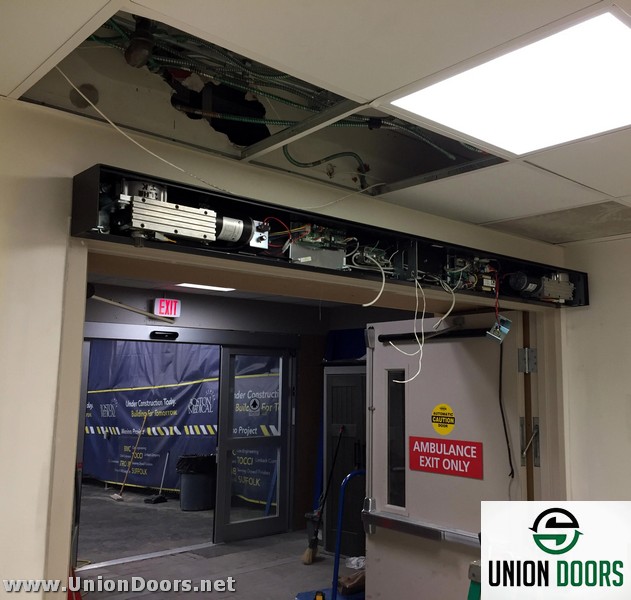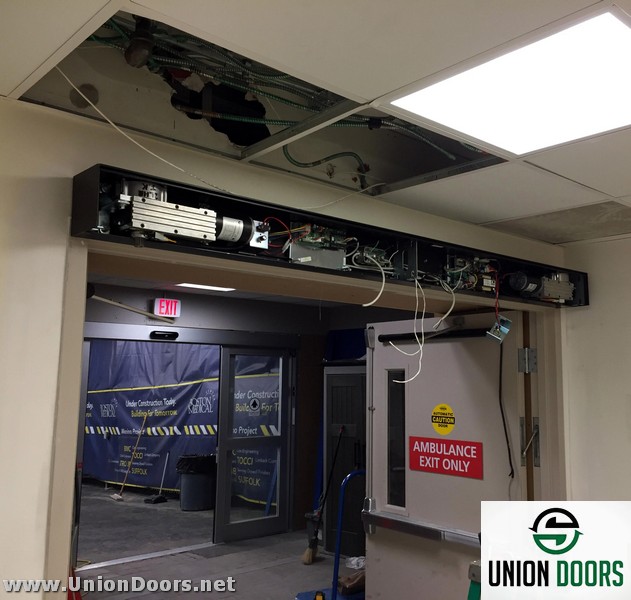 This project required the presence and participation of all Union Doors staff and management;  the job started at
12am
Friday evening and  ending at
11am
Sunday. Boston Medical was 
 up and running with what is being referenced as "temporary"  while the new Menino building is built.
Union Doors sends special thanks to Boston Medical and Suffolk Construction  for the tremendous opportunity to be a part of this project.  Union Doors also appreciates and shows admiration and respect for all the trades who labored  hard through the weekend to get the project completed, among them;  Sweeney Dry Wall carpenters, Sully Mac ( electrical ) and  ,the laborers Union , everyone involved felt a great sense of priode and accomplishment to have delivered outstanding service for Boston Medical.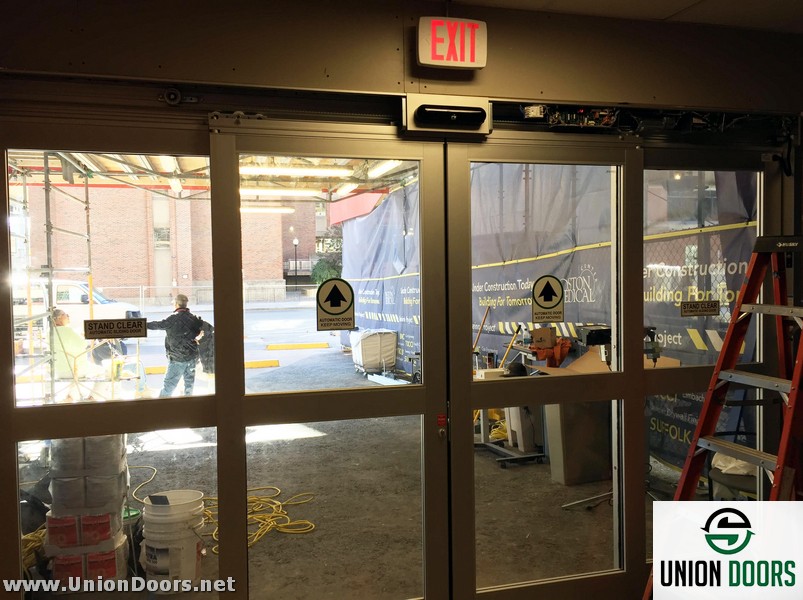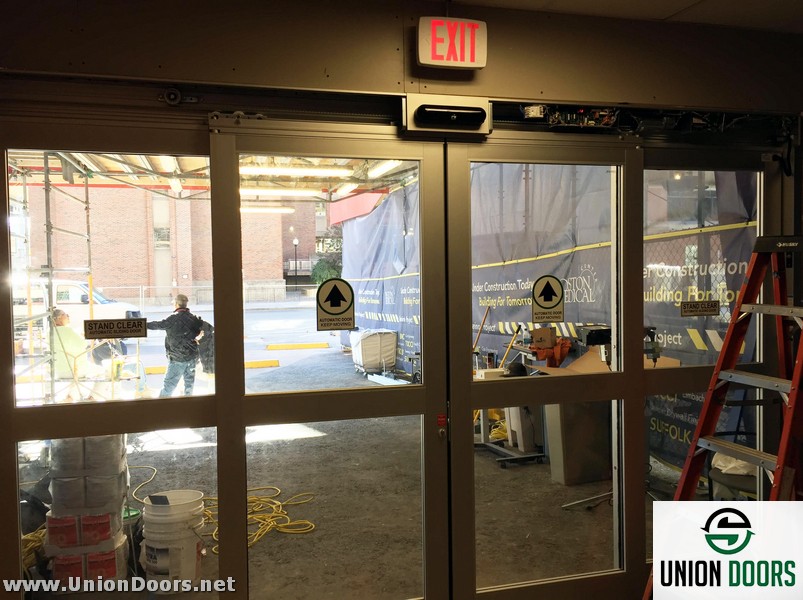 Click any image below to launch the Boston Medical Center photo gallery or
CLICK HERE
to jump to the Gallery
[envira-gallery id="665″]
Suffolk Construction
About Suffolk Construction:


TRANSFORMING THE CONSTRUCTION EXPERIENCE BY BUILDING SMART.
Over the past several years, we have transformed ourselves from a successful building construction management firm into an innovative, forward-thinking organization that has big ambitions—to change the construction industry as we know it. In fact, Suffolk's vision is to transform the construction experience by building smart. To achieve this ambitious goal, we are committed to three corporate strategies: 1) Advance the power of innovation to provide answers; 2) Empower our people to create high-performing teams; and 3) Engage in the community to make a difference.
"Build smart" is a commitment made by all Suffolk employees to consistently deliver the very best solutions, answers, and results on our projects. We have established a strong corporate culture that emphasizes innovation on our projects and in our operations. We embrace new practices, ideas, and ways of thinking, and our construction management teams are inquisitive, open-minded, and have a strong commitment to collaboration and open communication on our project sites.
Information here has been aggregated from the official Suffolk website for more information on Suffolk Construction please click the link below:
Sully Mac Electric

Mission
Sullivan & McLaughlin was founded and built on commitment, competency and a 'can do' attitude. Our fundamental mission now is to continue these traditions by growing an organization that has the depth and resources of a larger construction company and the unstoppable 'can do' spirit of a start up.
We are committed to building an organization that provides opportunity to those employees who commit themselves towards this mission and assist in delivering exceptional performance and value to our electrical and communications customers.
History
Sullivan & McLaughlin was founded by Bill Sullivan (Sully) and John McLaughlin (Mac). The two teamed up to turn a small partnership into one of Boston's most visible and respected electrical contractors today. Now with a staff of more than 500, Sullivan & McLaughlin has grown significantly since its beginnings.
The company is now owned and managed by the second generation – Hugh McLaughlin, John McLaughlin and W. John Rudicus –whose leadership is grounded in the same traditions and values that brought success forty years ago: commitment to our customers and high performance through teamwork.
Sweeney Dry Wall
About Sweeney Drywall:
Sweeney Drywall Finishes Corp., based in Boxborough, Massachusetts was Established in 1947, is a third generation family owned specialty union contractor.
Our specialties include drywall, rough carpentry, insulation, plaster, doors, metal stud framing and hardware installations for commercial contractors throughout New England. We perform these services throughout many different markets including hospitals, educational facilities, retail, biotechnology/research facilities, and sports/entertainment complexes.
We take pride in our attention to detail from our dedicated and professional employees. We deliver projects on time with the utmost quality, keeping all customers satisfied.
Our goal is to use the best products, materials, provide a safe work environment, by establishing working relationships with all project entities. We offer a strong commitment to the construction industry, community and our employees.