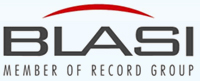 Content of this page is aggregated from the official Blasi site.
Blasi is by far one of the most creative manufacturers in the world. Union Doors has years of experience with Blasi / Record product line.
Founded by Peter Blasi in 972, the company rapidly expanded into one of the most innovative companies in the door sector. Shortly after Peter Blasi optimized the production process of the first door automation with an aluminum carrier section, a 6 meter span length could be realized for the first time. Further developments followed such as the first fully automated door control, the first angled door system, the first half-round sliding door as well as the further development of the linear sliding door and many more types. Those new ideas and progresses have been integrated in the company's knowledge and opened up new opportunities on the world market. Since 2007 BLASI is a fully-fledged member of the agta record group.  Located in Mahlberg/Germany, BLASI and his manpower of nearly 100 employees develop and produce door systems for the entire world. Since 2010 the sales and service section and its over 20 worldwide subsidiaries are being served and executed by record.

Design, Installation, and Service.
Union Door provides strategic consulting, design and project implementation of Entranceway Technology .
We sell, install, service, and maintain automatic and manual door systems.
Contact us today – 617-455-8023